Updated on 08/02/23
As we hit the halfway mark of 2023, the business world continues to experience growth and challenges.
The need to adapt rapidly is critical for those in the insurance industry. With competitors vying to outstep you, staying on the cutting edge of innovation and customer service is essential, all while maintaining cost savings.
Investing in an insurance BPO call center company keeps you one step ahead of the competition. With the right business process outsourcing agency, you are sure to accomplish your goals, be it short, mid or long term.
Experienced call center agents roll out products, respond to customer needs, and process claims without missing a beat. Your business carries on smoothly and continues to grow.
Let's dive into the how, why, what and many more questions of a service that is changing business for good.
Why Choose Call Center Outsourcing for Your Insurance Company?
When your customers need service, they need it right away. In most cases, they are contacting you because something has gone wrong.
Whatever the problem may be, they are probably feeling desperate for answers. A good or timely response could prevent valued customers from turning away. That's where call center outsourcing, or insurance BPO companies, come into play.
An insurance BPO company is equipped with the staff and the technology to manage these client calls, which boosts customer retention and highly improves customer service. How? Let's explore 3 main points
How Business Process Outsourcing Can Transform Your Insurance Agency's Customer Service
With the right perspective and team members, you can turn your insurance agency's customer service model from one focused on resolving conflict to one focused on customer retention.
Utilizing a well-trained team of business process outsourcing call center customer service representatives, you'll create a positive experience that sends ripples across your business.
Here are three ways your insurance agency can take advantage of nearshore business process outsourcing (BPO).
1. Customer-Centric Tools to Accent Growth and Retention
We live in a tech-driven world that doesn't shut down at 5 p.m. That means your insurance agency customers still want answers no matter the time.
Rather than investing your own agency's capital in technology tools that are constantly evolving, you can invest in nearshore business process outsourcing that specializes in remaining abreast of these industry trends and operates 24/7/365.
In addition to voice calls and emails, you can give your customers access to text and online chat solutions. Outsourcing also allows you to maximize customer service agent productivity with tools like predictive dialer software, automatic call distribution, and interactive voice response.
Besides making customer service more efficient, these tools give your customers the most personalized experience possible.
2. Insurance-Specific Call Center Solutions Personalized for Your Agency
The turn key is to know how to find and incorporate a BPO customer service call center that is already an expert in the needs of insurance agencies. Once that is meet, your organization and the insurance BPO team can drill into your specific audience, demographics, specialties, and other details.
You'll eventually want to have nearshore BPO customer service agents that are close enough in culture and language to answer your customers' questions about your available insurance options and handle any issues that come up with existing customers.
Once you have this level of personalization, the overall workflow of the team as a whole will be considerably increased. Meaning more leads, more conversions, more sales, and more happy customers.
3. Insurance Marketing Trends and Data Collection to Help You Make Important Decisions
Data is king these days, and outsourcing your customer service to the right nearshore BPO call center team gives you automatic access to trends among your actual customers.
This is crucial for reputation management, effective messaging, and insurance industry direction.
Your customer service call center agents document every call, so you can ensure quality and glean valuable information that can inform future business decisions for your insurance agency.
Business process outsourcing isn't just about removing the administrative and financial burdens of an in-house customer service team.
It's about creating an interactive customer experience that instills loyalty and referrals as part of your insurance agency's overall growth strategy. The only way an organization can do this, is by incorporating a good corporate culture around data.
Say Goodbye to Cookies
Furthermore, with a world each day distancing from third party data collection, which is passively collected by cookies, now is the time for a shift.
With protocols such as zero-party data collection, you can leverage the use of your insurance BPO provider to incorporate polls, sweepstakes, and interactive options within your sales funnel.
This not only resolves the issue of a world each day valuing more data privacy, it also empowers your organization to offer far more effective personalization, totally changing how the engagement with the customer is done.
BPO Can Perfect Quality Checks When Selling Insurance
Implementing quality checks is a crucial part of running a successful insurance agency, no matter the size of your company.
Even if it's not your specialty, you can find an insurance business process outsourcing (BPO) company to perform this due diligence for the safety and security of you, your employees, and your clients.
Automate Your Insurance Processes as Much as Possible
Human error significantly contributes to an insurance agency's lack of quality control. One of the best ways to combat this is to reduce manual processes as much as possible.
Outsourcing your essential work to the right nearshore BPO service provider can give you the advantage of automation where possible and lets you focus on tracking performance and keeping proper records.
Reduce Potential for Fraud With a Precise BPO Insurance Call Center Services Partner
Selling insurance requires a strong reputation for quality and customer satisfaction. How you handle your claim's management, particularly fraudulent claims, says a lot about your company.
Not only does high-quality customer service and processing improve the overall customer experience, but it also leads to greater accuracy during claims settlement. With a trusted and professional BPO provider, you'll benefit from practical fraud-detection tools from the input data, complete with indicators and alerts.
Top insurance BPO providers also draw attention to red flags, such as potential litigation or fraud, with a distinct risk escalation plan to respond to every scenario.
Insurance claims business processing outsourcing provides professional risk management that benefits your bottom line.
Implement Data Security with Insurance BPO
Your company's reputation can be damaged if your customers' data is breached. It happens to companies of all sizes in all industries, and preventing information theft it should be a key component of your business plan.
Utilizing a quality insurance BPO company lets you take advantage of the latest data security infrastructure rather than research and source everything independently.
At Confie BPO, we adhere to strict data security policies to protect your insurance agency's reputation and create a lasting quality experience for your customers.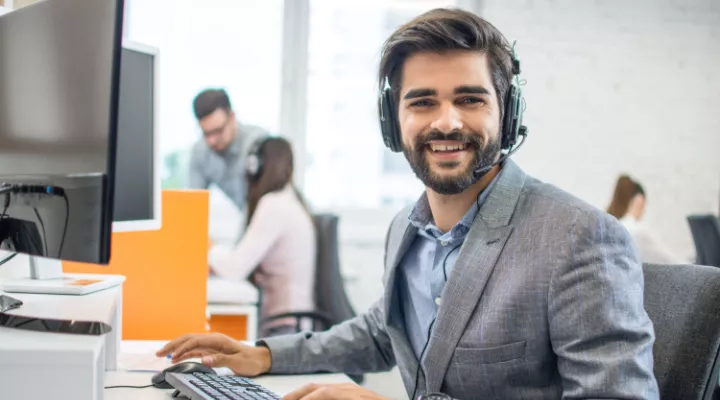 While building any business takes a degree of quality checks, it's even more critical when selling insurance.
People trust you to help them execute significant life decisions, so you need to have the core quality processes in place to maintain your reputation and grow your client base.
A BPO insurance call center not only protects your customers' information, it provides security for your private information, as well.
What is the Cost Savings of Working with an Insurance BPO Company?
You will see real savings when you partner with a call center services outsourcing agency. Experienced agents are already on the job, reducing your need to pay for training, education, and equipment.
When full-time workers take off vacation and sick days, BPO still works for you, saving you even more. You also save on recruitment, advertising, and hiring costs. BPO agents are vetted and highly skilled at dealing with inbound and outbound calls, lead generation, sales, insurance claim processing services, and more.
How Much Do BPO Insurance Services Cost?
The cost of working with an insurance BPO varies depending on the extent of services you need. It also makes a difference what cost model you use, which is mentioned below.
The typical call center outsourcing costs between $10 and $50 an hour. This is an estimate, since other factors may affect the amount.
What Are Other Factors Affecting Cost?
Several other factors may impact the cost of BPO services, including:
Location
Whether your BPO is onshore or nearshore can affect the overall cost. If you opt for a nearshore BPO, you will see additional savings due to reduced labor costs.
Setup Services
Sometimes, you may have to pay a setup fee or initial start-up costs. This could include costs for training or equipment requirements to ensure proper integration with your company. These costs should be discussed upfront, so there are no surprises.
Licensing Fees
You may have to pay for software licensing or legal service fees if your company corporation needs permission to work in a different jurisdiction.
Special Requirements
If you require any special requirements, that may factor into the price point. For example, if you anticipate needing staff 24/7, that may come with additional costs. People who work overnight may need additional compensation, making the rate higher.
Cost Model You Use
Your partner BPO leadership will work with you to determine which cost model is right for your business organization.
The hourly rate model uses the hours of time a BPO puts in for your business. Or you may select the services-based model, which will charge you based on your needs.
When Can I Get Started With Outsourcing?
You can begin the process of outsourcing your business at any time. You can start now by talking to an insurance BPO for more information.
Someone will review your business information and discuss what type of BPO services would be best for your company. Next, you can discuss the pricing models to determine which one would be a good fit for your needs.
Select a start date, sit back, and watch your business operations flow smoothly!
Find the Right BPO Center for Your Insurance Company
It's always best to clearly understand what you want and need. We can help you define your objectives and fulfill them.
The Confie BPO is equipped with state-of-the-art equipment and offers your company high security, confidentiality, and superior customer service.
Our personal lines company, Confie, has been ranked No. 1 in Personal Lines Leader in Insurance Journal for six years. Our BPO agents have a clear understanding of the insurance business.
You will become even more profitable and competitive with our qualifications and cost-effective pricing. We have over 1,000 bilingual (Spanish and English) and bicultural skilled staff members ready to help you optimize your operations for maximum productivity and profitability.
You can contact us online, speak to someone at Confie BPO by calling (888) 737 54-04, or email us at contact@confieBPO.com.