As you work in today's modern world, you know that customer satisfaction is one of the most important concepts that can drive your profitability. However, the way you handle customer interactions defines your brand. In order to generate the most success, you also want to understand the ins and outs of contact center outsourcing so you can use it as optimally as possible.
Third-party services are known as Business Process Outsourcing (BPO). These partners are designed to help you elevate your processes and operations, plus save you time and money. This article delves deep into the world of outsourced contact centers, discusses how they work to your advantage, and showcases why you need them to stay competitive in your industry
Understanding Contact Center Outsourcing
Contact center outsourcing does more than delegate customer service tasks. BPOs optimize your resources and augment your customer experience. In essence, you are taking your current processes and handing them to external specialized experts. Their solutions are customized for you to meet your needs, stay relevant, and have an edge over your competitors.
Outsourced call centers handle a plethora of tasks for you. These range from inbound customer queries and order processing to outbound sales calls and market research. The beauty of this outsourcing model lies in its flexibility. Assigning specific tasks or your entire customer service operations to a BPO partner that specializes in these specific areas is a solution that will make you more profitable.
The Benefits of Outsourcing Contact Centers
There are many advantages you receive by investing in a BPO partner with nearshore contact center outsourcing services. The first is that these experts free up your time, which enables you to focus on your core competencies as they handle interactions with your customers. Another is that BPO outsourced contact centers are equipped with the latest technology and skilled professionals. This means that your existing and potential buyers receive swift and efficient responses to their inquiries.
When you work with BPO third parties, you get access to a global talent pool and around-the-clock customer service. Both of these are crucial if you want to stay current. Buyers expect 24/7 availability from brands, and BPOs are able to deliver this quality of service for you.
An example of this is in the e-commerce sector. Outsourcing BPO customer support services ensures that your customers receive instant assistance during crucial stages of their purchasing journey. They will resolve any issues promptly for you while enhancing buyer satisfaction levels. When BPOs do this for you, the probability is higher that you will foster brand loyalty – and people will continue to buy from you.
Choosing the Ideal Contact Center Outsourcing Partner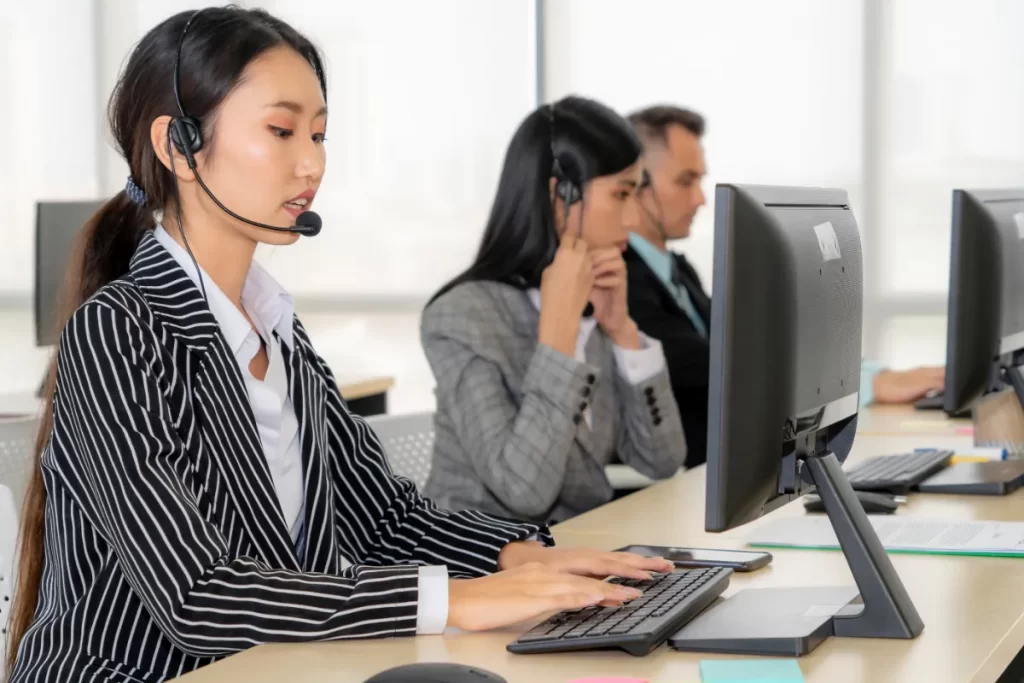 If you want the implementation to be successful in your organization, you need to select the right contact center outsourcing partner. As you go about your research, you need to consider factors such as the scale of your business operations, industry-specific requirements, and any of your budget constraints. All of these play a significant role in which partner makes the most sense for you.
Look for a reliable company that aligns with your business ethos and tailors their approach to your needs. They also need to provide seamless collaboration with your company. This means they have clear and consistent communication, comprehensive training programs, robust performance management strategies, and stringent security measures. All of these are recommended in any potential partner for you to capitalize on your investment.
Navigating the Financial Terrain and Ensuring Efficient Communication
Another aspect of working with a third-party BPO service is understanding their cost models. Getting these rates for any potential contact center outsourcing partner is important for your financial planning. Below are a few tips to help you as you select a BPO partner.
Decide the cost model that works best for your company. Contact center outsourcing companies have various types of payment models. These include per-hour rates, per-call rates, and revenue-sharing agreements. Make sure to factor in these rates as a part of your financial strategy.
Determine the metrics your organization needs. Your nearshore BPO call center should provide data analysis across all lines of service to help you better understand your customers.
Adhere to best practices. To get the most out of a BPO partnership, you need to adhere to best practices for effective communication with your contact center outsourcer. Choosing a nearshore BPO will go a long way to facilitating easier meetings, since time zones are very similar. These involve setting clear expectations, regular feedback sessions, and implementing continuous training programs.
Ensure your potential service provider has metrics for agent performance management. They need to measure things like first-call resolution rates and customer satisfaction scores for you. When BPOs gather this information and deliver it to you, it serves as a vital indicator to show this BPO partner aligns with your standards.
Your BPO partner should have an unwavering commitment to customer satisfaction to help you meet your goals and use cutting-edge technology. Confie BPO remains the epitome of exceptional service, so partnering with them is a strategic move for the growth of your business.
Elevating Customer Experiences with Confie BPO
Contact center outsourcing with a BPO partner requires navigating its complexities in order to get the most successful outcomes for your business. Confie BPO offers services across a wide variety of industries. If you are ready to elevate your customer experiences, redefine your brand's identity, and witness your business soar to unprecedented heights, reach out to us today. Your customers deserve the best, and Confie BPO ensures they receive nothing less. We can be reached via email at contact@confieBPO.com; call us at 800-684-2276, or visit our website.