Call centers are a vital part of businesses across the country and across the world, and these different call centers take countless consumer calls each day.
To make the most of these customer interactions, it's important to have a good call center script. Unfortunately, most businesses don't understand how better scripts can lead to better conversions and customer service experiences.
Want to write an amazing call center script? Keep reading to learn our top tips!
Add Some Personality
The primary issue with most call center scripts is that they sound stiff and even robotic. Obviously, callers don't want to talk to a human being who sounds exactly like the automated phone tree.
That's why it's important to add some personality into the script. This may include adding some light humor or simply encouraging employees to improvise by using a set of personable talking points. Especially with dry topics such as tech support, it's good to add some personality.
It's hard to find the perfect balance of scripted content and unscripted personable moments. But said balance is how you can really make every customer interaction feel unique.
Encourage Sincerity
Want to hear the paradox of a great call center script? The best ones don't sound like scripts at all.
That's because the best scripts encourage employees to offer sincerity and empathy to those who call in. While some of this is best handled at the hiring level (you should try to hire very sincere and empathetic employees for the role), you can also build sincerity into the script.
One way of doing this is to use positive language. And that is because the right kind of positive language builds an empathetic rapport between the caller and call center worker.
Using Positive Language
One basic bit of advice for call center scripts is to avoid negativity whenever possible. The last thing that callers want to hear is a phrase like "we can't do that."
Instead of hostile language, you should add positive language to scripts. This includes key phrases like "I understand" and "I am happy to do that." One of the reasons many businesses enjoy Business Process Outsourcing is that a good BPO provider can utilize this positive language to the maximum benefit.
As simple as this is, positive language works wonders for customers. They will be pleased that the customer service agent focuses on positive action instead of focusing on what the call center can't do. And reassuring callers that the agent understands their situation and is happy to help will encourage genuine interactions that help create very loyal customers.
Avoid Jargon
If we're honest, almost everybody hates jargon and buzzwords. While specialized terminology about things like business solutions can be useful, it's easy to use too much jargon and spend plenty of words saying nothing of value.
Make sure that your scripts are free of jargon and buzzwords. Not only does such language make a script sound stiff and unnatural, but it's a safe bet that many of your callers don't know what these words mean.
Instead, use plain language to describe different scenarios and discuss other options with callers. This simple language makes every interaction smoother, and minimizing jargon and buzzwords can speed up the average call center phone interaction.
Multiple Scenarios Per Script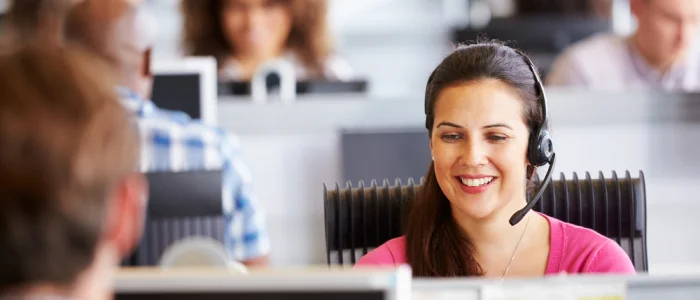 As we said before, it is difficult to find the balance between a tight script and those quiet, personable moments between caller and agent. But one of the best ways you can do this is to include multiple possible scenarios per script.
Obviously, it's not possible to script every possible scenario. But by building different scenarios into scripts around common caller questions and concerns, you can account for most of the possibilities.
Furthermore, studying these different scenarios will help agents learn more about the needs and fears of callers. So when they do have to go "off script," they will know what to say and may be able to steer the conversation back to one of the scenarios.
Listen to Call Recordings to Revise Scripts
When it comes to writing amazing call center scripts, we have good news and bad news. The bad news is that almost nobody gets the script right the first time.
The good news is that you have nearly infinite chances to revise the script! But, to make revision easier, you need to listen to call recordings.
These recordings will reveal some beneficial information. For example, you may discover common caller questions that your script doesn't cover. Or you may find the scripted elements that agents struggle with the most. In some cases, you may even find some threats to your overall business security!
By reviewing these recordings, you can make each script revision better and more natural-sounding than before.
Check Those Analytics
In addition to reviewing call recordings, it's important to review call center analytics. That is because the data from the analytics may dramatically change your script.
For example, most call centers have a target time for each call. And the point of this target is to serve as many customers as possible without keeping them waiting.
By checking the analytics, you may discover that some of your longest calls are linked to a specific customer question or problem. Revising and tightening the script based on this data can reduce those lengthy calls back down to the target time and improve your various business processes.
Build Call Center Scripts Around Pain Points
For the most part, customers call your call center because they are having a problem, and they are looking for someone to help provide a solution.
Therefore, the best call center scripts are built around your customer's pain points. By understanding what your customers fear, your script can guide them to the solutions they want while also providing the reassurance they need.
Best of all, writing around these fears will do more than improve your customer service. It will also boost your sales because such scripts help customers learn about the different products and services to solve their biggest areas of concern.
Improve Your Call Center Today
Now you know our top tips for writing an amazing call center script. But do you know who can help take your call center to the next level?
Here at Confie, we specialize in Business Process Outsourcing for call centers just like yours. We can help take your scripts, calls, and overall service to the next level and help you firmly establish your brand.
To learn what Confie can do for your call center, you can email us at contact@confiebpo.com. Or you can pick up a phone and call us at 800-684 – 2BPO (2276). We look forward to hearing from you today!