Outsourcing non-core activities frees up resources to focus on core competencies and helps differentiate your business from competitors.
Creating an effective outsourcing strategy requires your firm to determine its core competencies, build an analytical framework to identify which functions to outsource, and then iterate as needed to achieve success.
Read on for the 6 key components that underpin successful outsourcing strategies.
1. Identify Core Competencies
Start by identifying your company's core competencies, which are the unique strengths that set your business apart from competitors.
To identify your firm's key capabilities, you can use the following tools:
Analyze your company's mission and vision statements: Your company's mission and vision statements can provide insights into the goals and values of your organization and what sets it apart from competitors.
Conduct a SWOT analysis: A SWOT (strengths, weaknesses, opportunities, and threats) analysis can help you identify your company's needs. This can provide a starting point for determining your core competencies.
Assess your company's value proposition: Your company's value proposition is what sets you apart from competitors and provides value to customers. Analyze what unique qualities or benefits your company offers that competitors do not.
With this framework in place, your company can determine when or what to outsource.
2. Conduct a "Five Forces" Exercise for Your Company and Industry
Another methodology that can help you triangulate your firm's capabilities and determine where outsourcing sits in management's strategic priorities uses a classic business framework known as Porter's Five Forces. The exercise involves identifying the parties and context of the following five aspects of your industry and firm:
Threat of new entrants: The degree to which new competitors can enter the market and challenge existing companies. This includes factors such as barriers to entry, capital requirements, and access to distribution channels.
Bargaining power of suppliers: The degree to which suppliers can influence the pricing and terms of the products or services they provide. This includes factors such as the number of suppliers, the importance of their inputs, and the availability of substitute inputs.
Bargaining power of buyers: The degree to which customers can influence the pricing and terms of the products or services they buy. This includes factors such as the number of buyers, the size of their orders, and their ability to switch to alternative products or services.
Threat of substitutes: The degree to which alternative products or services can meet the same customer needs. This includes factors such as the availability of substitute products or services, the cost of switching, and the level of product differentiation.
Competitive rivalry: The degree of competition among existing companies in the industry. This includes factors such as the number of competitors, the level of product differentiation, and the intensity of price competition.
These five forces can help your firm determine when to outsource and when to take another path. For example, if a firm faces high competitive rivalry, low bargaining power, and low threat of substitute products, outsourcing may be a viable option to reduce costs and improve efficiency.
3. Determine Which Business Units Make Sense to Outsource
The components of a company are many. A small company may be able to put several hats on one employee or owner, but as the company grows, each part becomes more complex and more important. Can you ask one employee to take on the entire back office processes – from billing to accounts payable to human resources? It gets more difficult as the company expands.
Another important part is the overhead and expenses that come with dedicated employees performing one aspect of the company. Do you have dedicated employees to answer the call of a potential customer at all times? Customer retention is much less expensive than customer acquisition, but one call that goes to voice mail can mean the end of a relationship.
With today's leaps and bounds in the technology space, if you cannot keep up with the latest in software, you immediately become disadvantaged. But constantly upgrading and training is very expensive. Would it be justifiable to turn that over to a BPO partner so you stay a step ahead of your competition?
When should a company outsource?
The typical business school answer is: It depends. Once you have identified your firm's core capabilities and strategic threats, you should have a strong idea of which functions to consider outsourcing so you can focus on the above.
One common function that many firms outsource is the call center business unit. Call centers require significant capital expenditures to bring them up to speed, and they also have high operating costs.
A dedicated nearshore call center BPO partner can take this off your management team's plate so they can focus on strategic priorities.
When should a company nearshore?
Nearshoring, which involves outsourcing to a nearby country, can be a good solution for companies that want to outsource while maintaining more control. For example, a software development company based in the United States may choose to nearshore to a city in Mexico, such as Tijuana, to take advantage of similar time zones and easily communicate with and oversee the development team.
Another advantage of a nearshore call center is agent familiarity and expertise with your customers' language and culture.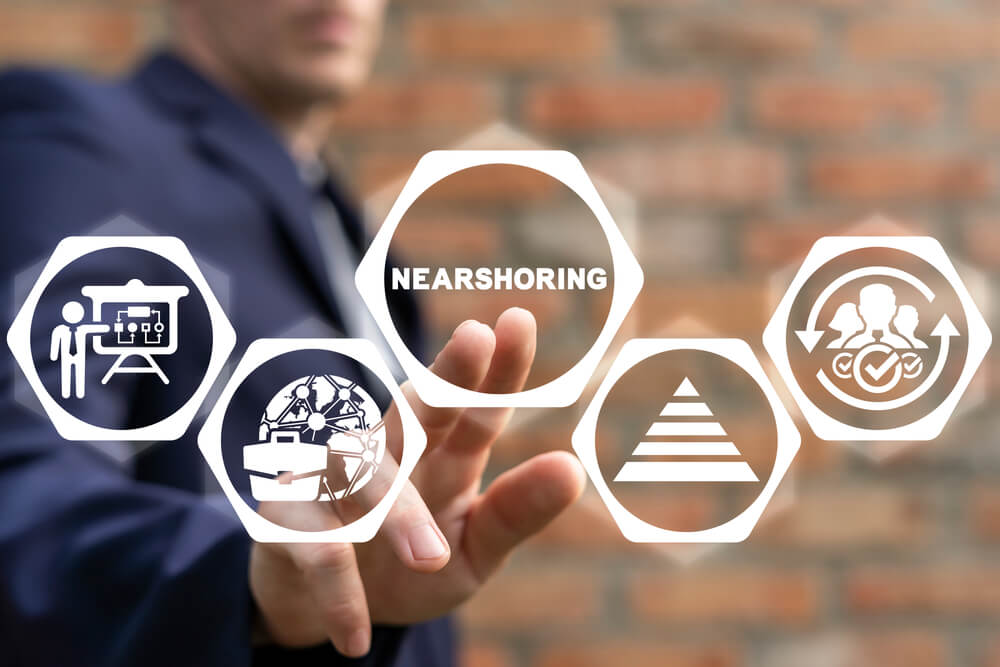 4. Establish a Strong Initial Relationship with Your Business Process Outsourcing Partner
Establish clear communication channels with your outsourcing partner to ensure expectations are met, and issues are resolved promptly. This includes regular progress updates, reporting, and performance metrics.
Holding your BPO partner accountable can go a long way toward ensuring your business achieves its objectives, including both inbound and outbound goals. Outsourcing as a business strategy relies on communication and strategic alignment to achieve its best possible results.
5. Identify Performance Metrics to Measure Outsourcing Success
Establish performance metrics and service-level agreements (SLAs) to ensure outsourcing partners deliver on their commitments. These metrics should align with your business objectives and should be reviewed periodically.
Here are some of the more common call center metrics to keep an eye on:
Service Level Agreement (SLA) Compliance: This metric measures the percentage of time a service provider met or exceeded the agreed-upon SLA targets, such as response time, resolution time, and availability.
First Call Resolution (FCR) Rate: This metric measures the percentage of customer issues resolved during the first interaction with the service provider. A higher FCR rate indicates the service provider efficiently and effectively resolves customer issues.
Average Handling Time (AHT): This metric measures the average time it takes for a service provider to handle a customer inquiry or issue. A lower AHT indicates the service provider efficiently handles customer requests.
Customer Satisfaction (CSAT) Score: This metric measures the level of satisfaction of customers with the service provider's performance. This can be measured through customer surveys or feedback mechanisms. A higher CSAT score indicates the service provider is meeting or exceeding customer expectations.
Cost Savings: This metric measures the amount of money the company saved by outsourcing a particular business process. Cost savings can be achieved through economies of scale, labor arbitrage, and reduced infrastructure costs.
Quality Assurance (QA) Score: This metric measures the quality of the service provided by the service provider. The QA score can be based on various parameters such as accuracy, completeness, and compliance with established processes and procedures.
6. Reinvest in Your Firm's Core Competencies and Expand Its Capabilities
With non-core functions successfully outsourced to a strategic partner, your firm can then reinvest in its primary capabilities. Based on the framework analysis conducted in steps 1 and 2, you should have a strong idea which projects will provide outsized returns on investment and lead to a positive net present value (NPV).
Naturally, this exercise should be conducted periodically to determine when it makes sense to shift additional responsibilities to your BPO call center partner or to take back some of those capabilities to integrate into your team.
Unlock Your Company's Full Potential with an Effective Outsourcing Business Strategy
Outsourcing can support a corporation by increasing efficiency, reducing costs, and accessing specialized skills. Key factors to consider when outsourcing are selecting the right partner, defining roles and responsibilities, and ensuring alignment with the company's goals and values.
Outsourcing can solve business problems such as staffing shortages, technology gaps, and regulatory compliance requirements. To define a successful outsourcing strategy, companies should assess their needs, resources, and potential risks, and develop a tailored plan that considers budget, timeline, and performance metrics.
Confie BPO can help your business determine if it should outsource to improve efficiency and streamline operations with a successful outsourcing strategy. To learn more, contact Confie BPO online, via telephone at 800-684-2276, or by email at contact@confiebpo.com.