The past few years have seen a transition in the workplace. With the effects of the recent pandemic, organizations have had to rethink their policies. A shortage in qualified applicants, plus workers' demands to work from anywhere have made employers consider the reality of permanent hybrid work models for their employees.
A hybrid work model is one where the employee is allowed to do their job from the office or any other place they choose, such as their home (WFH). The business process outsourcing industry (BPO) is one of many industries that have been affected by the transition to the hybrid work model.
Strong Growth Predicted for the Future of BPO Services  
The BPO industry is growing at a compound annual growth rate of 8.5% and should reach a value of $620 billion by the end of 2032. Hybrid and remote working models through cloud computing have greatly contributed to this growth. Today, companies can hire the best talent from anywhere without spending large amounts of capital on infrastructure. BPO solutions helps facilitate those outsourcing of tasks through new technology and working models that were not available in the past.
Issues Facing BPO Employees in the WFH Environment 
Before the pandemic, the BPO industry was already using a work from home or hybrid working model. Typically, the roles that worked in a remote setting were either managerial or some type of individual contributor. Once the pandemic reached a stage that offices needed to close, the BPO industry had to expand on the remote working model. Now that the pandemic is manageable enough to open offices, most employees are still hoping for an option for a remote working arrangement.
This does not go without difficulties.
Employees are finding that working remotely presents some challenges. For instance, an inability to unplug and leave work at the office is an issue that some employees face. In addition, managing the distractions that are present in a home environment present problems, as well. Most importantly, employees are missing a sense of purpose. A 2020 Harvard Business Review survey found that employees are having difficulty feeling that their contributions are recognized.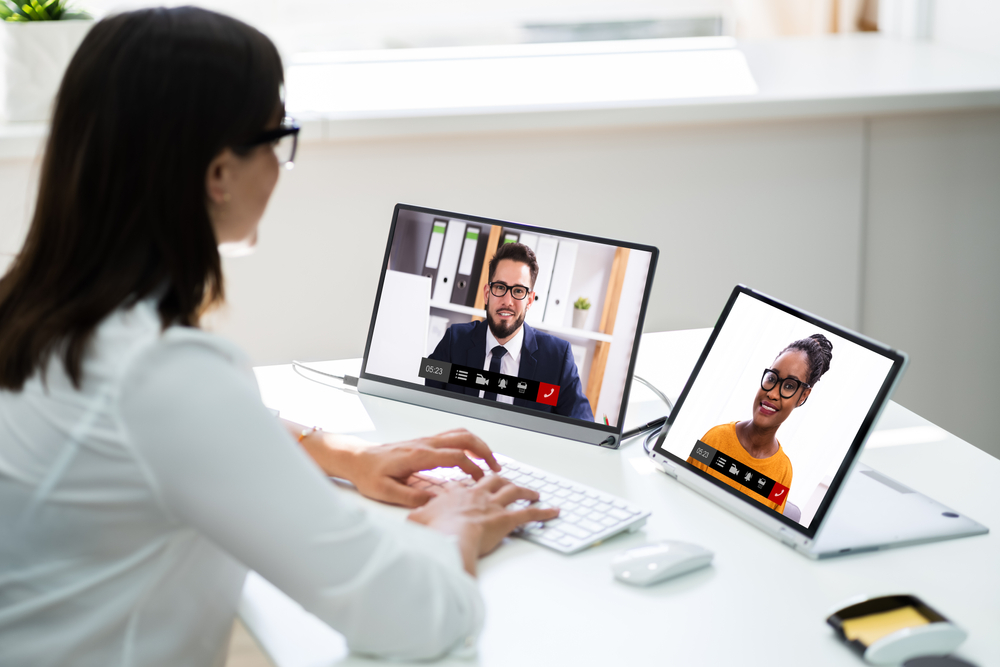 How to Adapt to Hybrid Working Conditions in the BPO Arena 
Now that hybrid working models are becoming the new normal, BPO companies need to create new guidelines. These new guidelines and policies need to provide flexibility as well as clearly designating responsibilities and expectations for all employees. Certain technologies that allow hybrid work and BPO functions to work simultaneously will need to be created and maintained.
For instance, social media platforms have become part of a multi-channel communication strategy that consumers are demanding. Robotic interfaces in the form of bots are contributing to customer interaction and offering considerable savings to the BPO industry. Utilizing this technology reduces the need for human interaction, so employees need to upgrade their skills, invest in education and specialize to stay relevant.
Benefits of Incorporating a Hybrid Work Format in BPO 
Hybrid work and BPO offers benefits for both the employer and the worker. Working in the office from a desk or a cube can create a sense of isolation for the worker. Hybrid models, however, allow the worker to create their own work environment, thus giving more satisfaction to the worker.
The opportunity to bring coworkers from separate locations together through video conferencing creates team building and improves collaboration that benefits the employer. The flexibility that hybrid working models create allows for caregivers to keep a job that otherwise may have been given up.
The hybrid work model has proven to be effective in the BPO industry. Companies are seeing lower turnover and better employee job satisfaction. Attracting talent to fill positions is becoming easier due to flexible working conditions. Low or no commute is not only attractive to hybrid workers but better for the environment. Plus, companies benefit from the savings due to hybrid working. These factors signal a permanent shift to the hybrid model and the integration of BPO.
How BPO Can Help Meet Today's Challenges 
To learn more about the trend-setting business tool of BPO and how it can help your business save time and money while driving productivity and performance, contact us or call 800 684-2276 today!